Structure
WHAT IS THE IB DIPLOMA PROGRAMME?
The Diploma Programme of the International Baccalaureate (IB Diploma) is a course of study for the last two years of High School. It leads to external examinations and the award of a diploma.
The IB Diploma is recognised by leading universities around the world.
WHAT IS THE IB CURRICULUM?
IB Diploma candidates are required to study six subjects. Three subjects are taught at Higher Level (HL), the others at Standard Level (SL). While it is possible to take four subjects at Higher Level, this is not recommended other than exceptional cases.
HL courses represent 240 teaching hours; SL courses require 150 hours. One subject is chosen from each of the following groups:
Group 1: Studies in Language and Literature
Group 2: Language Acquisition
Group 3: Individuals and Societies
Group 4: Sciences
Group 5: Mathematics
Group 6: The Arts
Students can substitute their group 2 subject for an additional grade 1 subject.
Students can substitute their group 6 subject for an additional group 3 or 4 subject.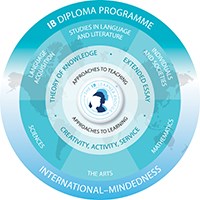 Source for image: http://www.ibo.org/