MYP
The International Baccalaureate Middle Years Programme (MYP) in grades 6-10 connects the IB Primary Years Programme (preschool-grade 5) and the IB Diploma Programme (grades 11-12). The MYP provides a framework of academic rigour that encourages students to embrace and understand the connections between traditional subjects and the real world, becoming critical and reflective thinkers.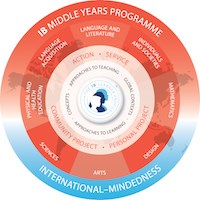 Source:www.ibo.org
The MYP curriculum requires mastery of eight subjects – Language and Literature, Language Acquisition, Individuals and Societies, Sciences, Mathematics, Physical and Health Education, Design, and the Arts. The engine driving the MYP through every class moves on the belief that all students can be taught to be independent problem-solvers with strong study skills. The Learner Profile allows students to assess their progress against clearly defined personal attributes.
MYP teachers use internationally published IB assessment criteria as a benchmark for their grading. They provide a variety of assessment tasks, such as open-ended activities, investigations, organized debates, hands-on experimentations, and reflections, allowing students to demonstrate their achievement according to the determined criteria.

The MYP culminates with the submission of a Personal Project in grade ten, an independent, eight-month long assignment that showcases the skills that our students have developed throughout the five years of their MYP studies. The project is a rich opportunity for students to create an extended piece of work that challenges their own creativity and thinking about personal issues. Graded against a rigorous set of IB criteria, the Personal Project is not only an integral part of the MYP but also a continuation requirement for students moving towards the IB Diploma Program.